Clarence Victor Coogan 1898
First member in Clarence S. and Ellen A. (Shepard) Coogan family.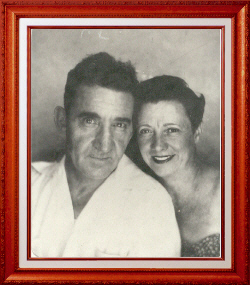 Clarence Coogan Kathleen Crow
Clarence Victor Coogan
b. 18 Jun. 1898 bp. Albany, NY d. 15 Jan. 1963 rp. Albany Rural Cemetery, Sec. 83.
Baptism 10 Aug. 1898 St. John / St. Ann RC Parish Franklin St. Albany, NY Sponsors: John and Maria Shepard. Priest, Fr. Ed Terry
Clarence died of cancer. He suffered four years of continual deterioration. His final week was spent in Rosary Hill hospital in Valhalla, NY. Clarence referred a "Bill Schade" as his cousin. I believe Bill was a relative whose mother may have died. Bill, James and Marie Shade were raised as family members by Clarence Sidney and Ellen Agnes Coogan. I, Clarence Jr. his son, never thought to question this when I had the opportunity. Bill Schade presumably died of walking pneumonia in his twenties. Schade is a name connected with Shepard. Marie Shade married a Dick Colligan.
m, 18 Jun. 1919 to Kathleen Marguerite Crow daughter of Edwin Shearer and Kathleen (Thomas) Crow of Albany.
b. 18 Nov. 1900 d. 3 Nov. 1995 a. 94 bb. beside her Husband
When Clarence died, Kathleen moved to Kingston, NY to be near her two sons. While still living in Elmsford she fell in her apartment and injured her back. She was unable to work again. After moving to Kingston, a chiropractor (McKinnon) promised her he would have her working again in six months. He was true to his word and she rejoined the work force as a food service person for the Kingston Hospital. She worked at the hospital for fifteen years and retired at the age of 82, only because of a change in the hospital work age policy. At 83 she fell and broke her hip. There after she resided in the Ulster County Infirmary until her death, thirteen years later.
Clarence left Albany in 1921 and moved to White Plains, NY with his wife and one year old son. He accepted a position as a speedometer specialist with Scholl's speedometer Service. In 1924 he moved to Elmsford, NY where he eventually opened his own business which comprised the sale of gasoline, oil, tires, batteries, and auto accessories. By 1929, a speedometer was standard equipment for all automobiles. Therefore, the speedometer service became minimal. The six volt battery used in all gasoline powered vehicles was also used in home radios of that era. Battery rentals exceeded sales and Clarence became skilled in rebuilding old batteries. These he painted green for identification. He would recharge these batteries and deliver them on a regular route basis
A slogan associated with his business read, "If it's batteries C Coogan". He was forced out of business by the 1929 depression and a continual demand for higher building rent. He never did restart his own business.
A story told to Clarence Jr. by his father:
When Clarence Sr. opened his business in Elmsford He became one of a local comradery of business people. A "Jack Hamilton" was a member of the group, although to the authors memory Jack's only profession was alcoholism. He was also a promoter of social activities, a big spender and was a direct descendent of the renown Alexander Hamilton. of George Washington's cabinet and the Aron Burr duel. The Elmsford High School was named "Alexander Hamilton" in his honor.
On a particular day, Jack organized a party to attend a ballgame at the Yankee Stadium in New York. The transportation consisted of trolley car changes from Elmsford through Hastings, Yonkers and finally New York. The trolley car was packed and the Hamilton crowd was gathered around the conductor. Somewhere in Yonkers Jack asked the conductor to stop the trolley. "Why", asked the conductor. "I gotta piss", returned Jack.
"You'll just have to hold it", said the conductor. After two more attempts Jack told the conductor he was getting off. When the trolley stopped Jack waved his friends to get off also. "We'll get the next car", he promised. They didn't get the next car. The police arrested Jack and accomplices as they attempted to board.
It seems that Jack had Pissed in the conductor's pocket before leaving the previous trolley.
--------------------------------------------------------------------------
Members in Clarence V. and Kathleen M. (Crow) Coogan family:
Clarence Victor Coogan II
Edwin Shearer Coogan
GO TO the next page
RETURN to the table of contents
RETURN to the home page