Edwin Shearer Coogan 1924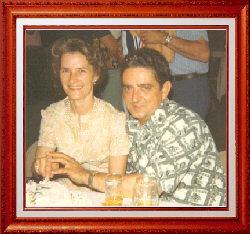 Emily and Edwin
Second member in Clarence V. and Kathleen M. (Crow) Coogan family.
Edwin Shearer Coogan
b. Mar. 30 1924 bp. Elmsford, NY d. May 19 2003 of conjested heart failure at St. Francis Hospital, Newburg, NY,
rp. Rosendale Plains Cemetery on the Coogan plot, Rosendale, NY
m. to Emily Elizabeth (Emerson) Coogan of Elmsford. Emily had a twin sister ,Gladys, who died in Texas of heart problems in 1994.
Edwin completed public schools in Elmsford, NY and joined the US Navy previous to the US entry into war. Ed was a Sonar operator assigned to Patrol Craft escort duty out of Key West, Florida. They called themselves the "Mickey Mouse" fleet, because their armament was lighter than the submarines they were searching for. The secret was to depth charge the sub before it surfaced. He was Honorably Discharged from Lido Beach, Long Island, NY, The following medals were issued:
Good Conduct
American Theater
Victory Medal
Returning to Elmsford, Edwin met and married Emily Emerson. They began a family of four children. While the children were still pre-teen, they relocated to Rosendale, NY where Ed found employment with Channel Master Corp. in Ellenville.
--------------------------------------------------------------------------
Members in Edwin S. and Emily E. (Emerson) Coogan family:
Joanne Marie Coogan
Edwin Shearer Coogan Jr.
Kathleen Mary Coogan
Debra Ann Coogan
GO TO the next page
RETURN to the table of contents
RETURN to the home page