Saint Martin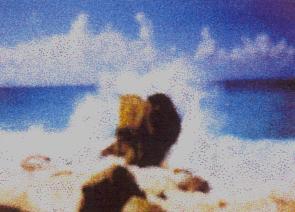 By 1990 I was definitely retired. It was now time to smell the roses. The roses took the form of a beautiful small island in the outer Caribbean chain: Saint Martin / Sint Maarten. It became our annual safari for eight years. We first heard of it through my daughter Linda when she was bartending for Bob Hodges at the Hurley Mountain Inn. Bob owns a three bedroom home next to the Juliana airport. The island is divided between the Dutch and the French. Juliana airport is on the Dutch side. Bob agreed to rent it to Wilma and me for two weeks. We used it for two years successively. The third year it was not available.
Linda had stopped bartending and accepted management of the Liggan insurance office in Rosendale. She acquired the insurance accounts of a St. Martin native couple, Alain and Mercedes Gumbs. Alain had studied Architecture in New York and returned to Saint Martin to built a four story unique apartment house high on a hillside over looking the town of Grand Case with a view to the island of Anguila, ten miles across the Caribbean waters. We were fortunate to rent the top floor of this unique palace. And now we are staying for the whole month of November each year. It has been a reunion event for all of Wilma's and my families, a luxury few parents enjoy.
Mercedes opened a law office in New York to service the needs of immigrants applying for citizenship. She has kept her children with her to insure their educational needs.
Over the years the Gumbs have become very close friends who are concerned for our comfort whenever we are on the
island.
GO TO the next chapter in my life
RETURN to the table of contents
RETURN to the home page